Manifesto for the 2016 elections to St Albans City & District Council
It's our Money
Local taxes have been frozen for some years but Government pressure means that this is no longer going to be sustainable. So it's even more important to ensure that your money is spent wisely.
Currently the District remains jammed in the last century. It receives half a million phone calls a year, mainly from people who would prefer to do business online. Its planning system is difficult to manage with overworked officials struggling to process routine enquiries.
Increasingly the Conservative answer is to make people pay as they go, whether directly or through 'crowd-funding' – basically making people pay twice for the services they use.
We will:
Make as much use as possible of online forms and reporting. This means that straightforward transactions can be done swiftly and at low cost, while those who cannot or prefer not to use the internet are able to get through by phone,
Make sure that all sections of the council deliver real efficiency savings so that money is released for priority projects,
Oppose attempts to expand the use of 'pay as you go' services.
It's our Environment
We have worked with other parties to deliver a new recycling contract – a process the Green Party failed to support.
The new contract has got to be made to work everywhere – not just in houses with drives, but in terraced streets and flats.
Meanwhile the standard of street cleansing gets worse every year. Leaves are left for months or longer and our drains get blocked as a result. Some streets with parked cars barely get cleaned at all. This could be avoided by working with the County Council more effectively.
Air pollution is an increasingly worrying issue and we are glad to have worked with the County Council to devise a scheme to reduce air pollution on Holywell Hill - but this is taking too long.
Meanwhile the queues of cars into St Albans are causing massive delays, damage to the local economy and yet more air pollution – something not helped by the cuts in bus services made by the Conservative-controlled County Council.
Cycling still needs further work. The County Council has helped deliver the 'green ring' but our roads still feel very unsafe. Many private blocks of flats have either no facilities or facilities that are desperately insecure.
We will:
Work to ensure that the new recycling contract is brought in smoothly,
Co-operate with the County Council to close streets for a single day for an annual spring clean of street-sweeping, gulley-cleansing and minor repairs,
Press the County Council to bring in bus priority measures and improved route signing to cut polluting traffic queues,
Provide grants to blocks of flats which wish to improve or upgrade cycling storage facilities,
Work constructively with the County Council to find ways of mitigating the effects of its disastrous bus cuts policy,
Encourage more businesses to devise travel plans and reduce the car usage of District Council staff,
Provide funding to Transition St Albans and similar organisations to encourage people to use energy more efficiently in their homes and in how they travel,
Find ways of funding a refurbishment of Clarence Park and its pavilion as well as seeking long-term solutions for reducing pollution of Verulamium lake and the Ver.
It's our Railway
St Albans residents spend a fortune on season tickets and yet receive a service which simply does not get better. Thameslink is fond of blaming Network Rail but even they cannot pretend that they are not responsible for the lack of drivers and the resulting cancellations.
We will:
Work with other councils serviced by the Thameslink line to put pressure on the Government to penalise Thameslink for its failures.
It's our Economy
We have to make sure that businesses are allowed to thrive. This has not been made easy by the Government's foolhardy decision to allow offices to be converted to residential units without planning permission – which has meant that businesses are being driven out of town centres while traffic is allowed to increase without any mitigating measures.
We will:
Tackle central government over its planning policy,
Support the idea of a Business Improvement District to provide additional business rates funds to make the city centre work better, something pointlessly opposed by the Green Party,
Work much more closely with local businesses to find out what their needs are.
It's our Youth
Young people need a better voice. The Youth Council is a start but so often issues of concern are ignored in the Council's policy making or put in a box and forgotten about – as has happened with their concerns over the regulation of the taxi trade.
We will:
Have regular meetings with young people around the district,
Ensure that all council papers have a youth impact section to remind councillors of the importance of our future citizens.
It's our Homes
St Albans still manages its own council housing but it is increasingly clear that the management of repairs and capital improvement has been lamentable. Meanwhile, the housing stock is under pressure as never before as the Conservative Government seeks to enforce sell-offs and drive those on lower incomes out of the district.
We will:
Keep looking for ways of funding more affordable housing,
Overhaul the housing department to ensure that tenants' money is spent more effectively and efficiently,
Work with other councils to oppose the Government's plans to reduce the quantity of affordable housing in the district.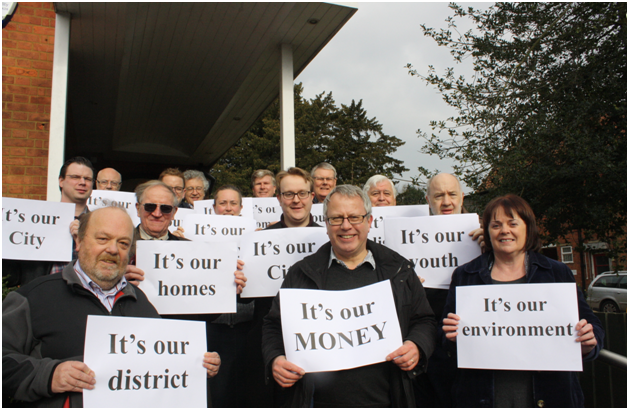 The Liberal Democrats aren't funded by big business or trade unions, we rely on donations from ordinary people just like you - so we need to raise £1,000 before the election to get our message across to everybody in the District. Your money could pay for a round of Focus leaflets, letters to local people about important issues or time on the phones so we can speak to as many people as possible. If you agree with our ambitions for St Albans, please donate to our campaign today.